Last Tuesday, July 10, 2018, the parish president, Mr. Jeffrey Campbell led a work party to beautify our parish church grounds, he was assisted by Keith and Kory Schorr, Jordan Campbell, the parish president's son and by Ethan and Jacob Daller.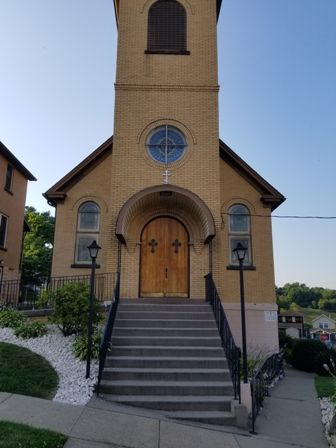 Mr Campbell says that he had a great team and that they moved the rocks from the church car park to their resting place in about 40 minutes and that entailed putting the rocks in and, of course, the most important part which is the cleaning out and placing of the ground cover and that was done by Mr. Campbell himself.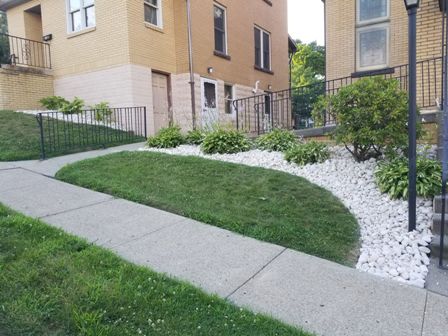 Archdiocese of Pittsburgh and Western Pennsylvania
P.O. Box 1769
Cranberry Township, Pennsylvania 16066-1769
Website: www.ocadwpa.org
Diocesan Hierarch
Most Rev. MELCHISEDEK
Telephone: 724-776-5555
Diocesan Chancellor
VRev. William J. Evansky
Telephone: 724-266 .. 5009

21 June 2018

Dear Reverend Fathers,

Glory to Jesus Christ!

The Archdiocesan Youth Committee and I are writing to let you know that with the blessing of His Eminence, Archbishop MELCHISEDEK, Archpriest Michael Senyo has opened St. Alexander Nevsky Cathedral's summer camp to all diocesan youth. If you have any youth in your parish who would like to attend the summer camp, it will be held at the Cathedral during the week of July 23-27, 2018, from 9 a.m. to noon. +

Youth who are age four through high school are invited to attend. There will be lessons, craft activities, a Bible verse for the week, and a daily snack provided. There is no cost for campers to attend the summer camp because the Archdiocesan Youth Committee will cover expenses related to all attendees who do not attend the Cathedral, however we do need RSVP's in advance so that proper planning of supplies, food, etc. can be available.

Enclosed is a registration form that can be duplicated and distributed to your parishioners. If you have interested youth, please have parents complete the registration form and email it to Ann Hershey (abhershey@gmaiLcom), Church School Coordinator at St. Alexander Nevsky, by Sunday, July 8, 2018. All church camp questions should also be directed to Ann Hershey.
In Christ,

Archpriest William J. Evansky, Chancellor

Marcie Killmeyer, Archdiocesan Youth Committee Chairperson
The position of housekeeper at the chancery in Cranberry Twp. will soon need to be filled. The position currently entails coming to the chancery once a week; each time for approximately four hours maximum. This includes such duties, but necessarily limited to, sweeping the carpets, dusting the furniture, cleaning/mopping the kitchen, cleaning/dusting the bedrooms, office, basement, bathrooms, etc.
Any interested person should contact Very Rev. Archpriest Bill Evansky to discuss further details (including remuneration and references). Please ask the person to contact him via this email address, This email address is being protected from spambots. You need JavaScript enabled to view it.or or by phoning his Ambridge parish office (724-266-5009).
Saturday, 18 August, 2018, at 10:00 AM

Stoughton Acres Golf Course,
904 Sunset Dr, Butler, PA 16001, USA

Entry fee: $55.00, (includes green fees, cart, lunch & dinner).

For dinner only fee: $10.00
Dinner will be served at approximately 5:00 PM at Ukrainian Hall, 21 Evergreen Road, Lyndora, PA
Deadline: August 5, 2018. Make cheques payable to Rose Raith, (724) 282 3191, 115 Shawnee Drive, Butler, PA 16001

For more information: Frank Hawryliak (724) 287 7826
The events flyer can be found here
The next parish council meeting will be on Thursday, July12, 2018, at 6:30 PM in the church hall.